Learn Thai On Your Mobile Device
Want to have the convenience of access to learning Thai on your Mobile Phone iPhone, Android or Tablet? Learning Thai anywhere, anytime with this program is easy. Access a mega load of fun, fast, and easy lessons directly on your mobile device.
Whether you're an iOS, Android, or a Tablet user, you can learn Thai on any screen with ThaiPod101 Mobile. This program is full of vocabulary mixed with grammar and Thai culture so that learning Thai is actually fun! You can learn Thai on your mobile device anywhere there is a WiFi or 3G/4G connection, anytime.
There are hundreds of Thai lessons in this Thai learning program from beginner level right up to advanced. At the touch of a finger you can access any of the lessons. The program is optimized for any screen, and navigation through a copious collection of lessons and resources is intuitive and easy. Hats off to the creaters of this interface.
Whether you're an iOS or Android user, you can swipe your way from lesson to lesson becoming more fluent at Thai as you go. The program features fun to watch video and audio and is backed up with transcripts of the audio for your reading pleasure.
You don't need to download a stack of audio files that eat up all your storage space on your phone. No you can sign up for a free account and listen to the lessons from the program server. Save your important storage space for other things.
If you sign up for the program you can also use the program on your PC. Because your PC has more storage space than your mobile device you can download any of the audio and video files that you wish and store them for later usage.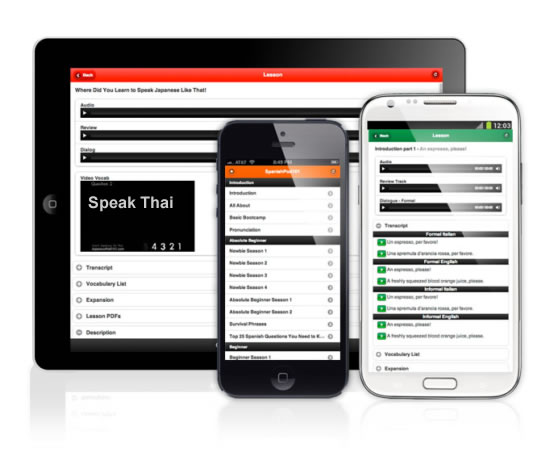 Accessing Thai lessons through your mobile device has just got to be the easiest way to learn Thai. I wish this service was available years ago when I started learning Thai. I remember carrying a Walkman and a pocket full of tapes around with me. It just seems so antiquated when I think of accessing Thai lessons over a WiFi or 3G/4G connection with my mobile.